Description
STRADIAII REIMS
A reclining sport seat featuring accent colors which are luxurious and sporty while also having a balance between hold performance and ease of boarding/exiting
STRADIA II REIMS is an high quality reclining sport seat which uses the STRADIA II SPORT as a base and uses high-class faux-suede fabric as a full cover all the way to the rear side of the seat.
With the steel frame and silver FRP shell as a base, we coordinated the accent line colors of the logo, shoulder part, and seat back part. 
It is finished with a high-class faux-suede and smart sewing line & double stitch.
We have also set up low cushion models.
The STRADIA II REIMS is equipped with a two-piece type thigh region cushion which effectively distributes body pressure. For certain models which require clearance between the steering wheel and knee region such as the Silvia, 180SX/240SX and RX-8, we have set up low cushion models with the thigh region two-piece type cushion lower than the standard type.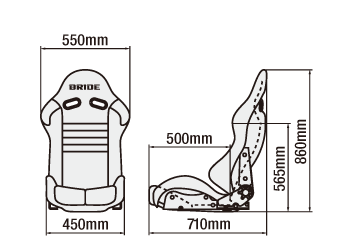 Ask an expert
Not sure if the product will suit your car? Fill in the form and one of our team members will get back to you shortly.
IN A HURRY? CALL US ON (07) 2111 7466
Price match
If you find a cheaper price on this item elsewhere we will try match the price or even beat it if possible!
Note: price must be in AUD. Conditions apply